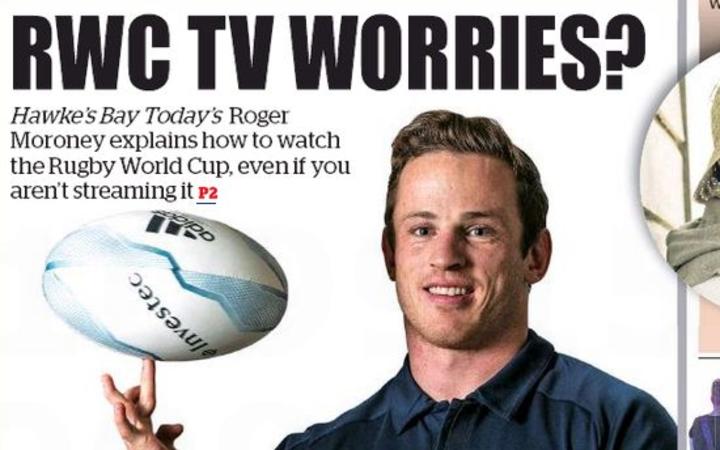 We haven't been this twitchy about tech since Y2K. Spark took a gamble by buying the World Cup broadcast rights and offering live streaming coverage to subscribers. It sparked a flood of sceptical – sometimes hostile – media coverage, but the bigger picture is the future of sport on screen.
"You can pat yourself on the back or give yourself an uppercut depending on how things go," All Blacks coach Steve Hansen told reporters before flying out to Japan for the Rugby World Cup.
But at that point it was the outfit with the live rights for screening the tournament here which was rolling with the punches: Spark Sport.  
For the first time, the live coverage of the Cup is mainly available from a telco via an online app for subscribers but with some key games screened live or delayed by TVNZ as well. 
Spark has a fall back plan. TVNZ's Duke channel will take a match live within minutes if the stream fails to fire for  users. Sky-equipped pubs and clubs can screen the footage too and even rural schools have been given a free tournament pass if rural connections prove too patchy to support the live-streaming.
And angst about the streaming hasn't been hard to find in the media – along with articles about about older viewers unable to adapt. 
This week's Listener said dramatically the Cup "could make or break Spark".
A streaming fail won't break one of New Zealand's biggest companies, but it would be terrible PR. 
The Listener also added a bit of perspective.
TV writer Fiona Rae pointed out hundreds of thousands of households subscribe to Netflix and Spark's own service Lightbox. Then there's Amazon Prime Video, DocPlay for factual stuff and local subscriber service Stuff Pix. Apple TV+ and Disney+ are launching towards the end of the year too, she said.  
The media have been sounding the alarm about Spark streaming from Japan ever since since a World Cup fail across the Tasman a year ago. 
When Australian telco Optus bought the rights to the FIFA 2018 football World Cup in Russia and its streaming just didn't work, the media here seized on the possibility of 'Australia's failures' happening here this year. 
At that point  it wasn't clear exactly how Spark panned to deliver it. 
But soon after Spark Sport was launched with US-based sports streaming platform provider iStreamPlanet.
"Spark wanted a provider capable of supporting a very large number of concurrent users while still offering a world-class viewing experience," Sport Sport boss David Chalmers said at the time. 
That's what the subscribers want at RWC time too, obviously. 
When iStreamPlanet failed to live-stream the whole game between the women's Black Sticks' and Australia on Anzac Day, Spark said "human error" in the US was the problem  – not the technology.
The hockey problem turned into a Mike Hosking problem when the technology stalled for the Formula One season opener soon after. 
"The clock is ticking, and week one when the light went green, they stalled the engine," he complained on air. 
"The whole experiment starts off with the hard yards of dragging a rugby-mad nation across the technological line, and into a world we didn't necessarily ask to be in. So we have a room full of doubters," he said. 
"The media go nuts because everyone loves to rain on trouble," he said – proving his own point as he said that last week.
The same day on NZTB's rural show The Country, host Jamie McKay said it was "a car crash waiting to happen" for rural New Zealand – and on The Project, Jesse Mulligan told viewers it was the first world cup where "Kiwis were more worried about watching it than winning it".
Yet two days earlier Spark Sport had a dry run streaming a Japan vs South Africa game from Japan.
Sports writers and tech writers logged on and looked out for delays, buffering, motion blur and audio drop-outs but that night Stuff reported it all went well.  
Two days later, under the headline, the new technology columnist for Stuff's Sunday Star Times – David Court asked: Are we heading for a Spark Sport rugby coverage debacle?
He was "very suspicious" that former Spark chief executive Simon Moutter stepped down before the RWC. 
"Former UK Prime Minister David Cameron did a similar thing after leading the country into the nightmare that is Brexit. And just take a look at how that is going over there," he said.
But while he was the only one to invoke Brexit, Court wasn't the only journalist lacking confidence – but also evidence to back up the fears he was projecting to his readers. 
Last Monday media seized on a survey of 1250 New Zealanders commissioned by a broadband comparison service which found 57 percent of them felt "negative" about streaming the Rugby World Cup. 
It was not clear what that really meant.
What the media didn't do much of was actually examine the upgrades and tweaks Spark has done to make it more likely that streaming would work for that the majority of people why try it. 
In a presentation for the Telecommunications Users Association last month, Mr Chalmers gave a pretty detailed breakdown – but not much of that made it into the media. 
Mr Chalmers pointed out that after the 'Floptus' episode last year, Optus recovered to successfully stream English and European football to a growing number of presumably satisfied customers in Australia.
To do that, Optus had to outbid dominant pay TV player across the ditch Fox Sports – roughly the equivalent of Sky Sports here – for the rights.  
Sky is reportedly preparing a huge bid to hold on to the rights for All Black and Super Rugby – because its still critical to a business model built on on hundreds of thousands of people paying for bundles of other channels. 
Any Spark Sport streaming glitches over the next five weeks will definitely make headlines but the bigger picture is live sport on screen beyond the Cup in 2019.